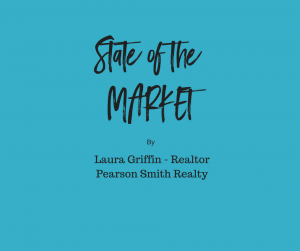 WOW it was a crazy Spring and Summer real estate market in Loudoun Co. We had low inventory and many homes were selling before they hit the market or less than 7 days with multiple offers. Buyers were chasing after Sellers in our area to get into homes.  July and August are generally considered the worst months to still have your home on the market, we did see a slow down in the real estate market similar to years past. Most Buyers had already purchased a home and are settling in before school starts, after PSCing to the area, or summer vacation is over.  Currently, the market has slowed down a bit which is good for Buyers, we seeing less bidding wars but we are seeing less inventory in years past.  Currently there is 1.9 months of inventory in Ashburn (20148), the last 5 year average is 3.6 months of inventory.   Similar story in Aldie (20105) currently there is 3.9 months of inventory, the last 5 year average is 6 months of inventory.  We have lots of Buyers looking but limited supply of homes for them to buy.
Did you know that our area has a strong Fall market?  While Spring is always the most popular time to sell with lots of Buyers in the market there is also lots of competition for Sellers.  Fall is a great time with still lots of Buyers in the market looking to buy a home due to life events, first time home buyers, relocation, renters with leases ending and government contractors moving to the area on new contracts.  We see Buyers looking to get into a home fast before the holidays and the snow season starts.  It could be a perfect time to get top dollar for your home with limited competition from other Sellers. If you are thinking of selling this Fall my team can help you with our stress free strategy to help you get top dollar for your home.
If you are thinking of selling in Spring 2019 perfect, I have been meeting with many Sellers in the past few weeks to lay out a plan to have them ready for the start of Spring Market.  Did you know that there are things that you can do now to get your home ready?  I have a top 10 list of things you need to do to be ready for Spring, contact me for a copy of that list.  I am often taking exterior photos in September for Spring listings to take advantage of the beautiful weather, gorgeous landscaping and green grass so the home shines in photos.  My Staging Team is also happy to set up a 6 month staging plan for your home so you are picture perfect come Spring and can take your time doing it piece by piece.
So where is the real estate market going?  It's a mixed opinion right now.  Some experts are thinking that with interest rates rising we might see a decline in home sales, especially as prices are rising and some Buyers can't afford homes or are taking out large mortgages to afford a home. 
USA Today
had an article showing that Economists think that 2020 we might see a recession like 2008. While some Economists are saying that the housing market will continue on the same trajectory for many years to come.   Another big unknown for Northern VA is if we will get the new Amazon HQ2 and if that will give our area an economic bump.  It is looking like we won't know the fate of Amazon until the end of the year.  Don't you wish we had a crystal ball to look into the future?
Buyers have been asking me if they should wait or buy a home now?  They don't want to miss out on appreciation since home prices have been rising recently anywhere from 3-7% in our area, or they are afraid of buying at the height of the market with the possible threat of a looming recession.  While I can't answer that question for them it is a personal one that is based on what is best for them now and in the future.  I think it is best to weigh all our options and talk to a few professionals to come to the best decision.  My best advice is sit down and make a 5 year plan to see what make the most sense.
If you have any questions about the real estate market or Loudoun Co real estate please reach out I would be happy to answer any of your questions.  I am constantly out in the area helping Buyers with re-sales and new construction homes, as well as helping Sellers with selling their home.  I have a lot of knowledge about our area and would be happy to assist you.  So please feel free to contact me, your local area expert, for any real estate needs and questions! We live here.  We work here.  We are here for you!
Laura Griffin – Licensed Realtor in VA
Pearson Smith Realty
571.354.7325 – Cell
571.386.1075 – Office
Laura@e4realty.com
www.laurasellsloudoun.com
43777 Central Station Dr #390
Ashburn, VA 20147